Communication
Lessons Learned Webinar
Lessons Learned in Communication
Our webinar entitled Lessons Learned: Communication had an expert panel of communications and safety professionals from two different shipping companies - an aviation safety and business expert and a safety culture consultant. The theme question for the event was "How can we ensure that the right person gets the right information?"
Key lessons:
Prioritize which information is communicated to whom to avoid information overflow

Delegate communication tasks so one person cannot form a bottleneck

Base your culture on trust instead of blame

Trust requires a solid belief in that everyone's contribution is valuable

Honesty and openness about accidents reduces future misunderstandings

When communication fails in accidents, it is common that witnesses did not speak up

Not reporting something immediately may become a bad habit

The Master needs to have confidence in that s/he is truly backed up by the company  in daily safety work

Background culture can affect individual openness towards and trust in authorities – the Master needs to be clear with her/his expectations

Operational instructions should be short and easy to understand

Rules, regulations, and guidelines never cover every possible scenario
Today's shipping environment relies on multichannel communication, modern communication technology and social media, which plays an important role in organisational communication. Communicative measures include external output, i.e. outbound information to certain parties outside of the organisation, and internal communication i.e. information designed to reach the right persons within the company. In order to ensure communication success, delegating communicative tasks is key. When it comes to safety and crisis communication, it is imperative to set up a system that reaches the relevant people directly.  In some cases, too much information can be a burden, especially for people in operative roles. One of the lessons learned is that the relevant information should always be channeled to one person who is readily available to receive it. Key communications professionals should always have a backup so one person cannot cause a bottleneck.
From aviation operations, we learned about the importance of preplanning communication in case an incident should occur. A good communication plan devised in advance names the key people who should be provided with all relevant information as well as what action they should take in the case of an incident. External communication should not only take place when an accident has occurred; even less significant and/or exceptional events should also be proactively communicated to the public; honesty and openness in every situation helps to reduce the incidence of misconceptions and stifle rumours before they spread. Within aviation, internal communication channels spread information from those who operate the aircrafts every day. A high number of everyday reports equals a better chance of mitigating any future incidents.
Reporting is built on trust and building up trust requires time. People gradually develop trust when they see that every report matters in terms of work safety. In addition, the risk of finger-pointing and blaming culture will be reduced if there is a good system for handling reports. Each incident will be invested,  but the investigation targets the system instead of the individual. A good safety culture is not only blame-free; it is based on trust. If you do your best but still fail, you should not be held responsible for the incident. The most important safety promoters are the Masters on board, since they have the opportunity to create an open atmosphere where speaking up about what went wrong is possible and desirable. An important aspect to consider when working with an international crew is that each individual has a distinct culture of origin that affects his/her disposition when it comes to speaking openly to authorities. This is why it is paramount that leaders are open about their expectations concerning safety and reporting and that they build a working culture of trust that facilitates fulfilling these expectations. As role models, Masters can prime the road to openness and trust by communicating openly about their own mistakes.
The insights of the safety culture expert who has worked with many different shipping companies revealed that while communication is the most important aspect to improve in order to increase operational safety, it is also the most difficult. Highly functional communication is always based on trust and transparency, and yet it is often hindered by organisational structures: Can we question the Master? Analysis of accident reports proves that while there is almost always a witness to the chain of events, they often did not want to give an account of them. In these cases, the lack of communication itself is not the core cause of trouble. In order to get to the root of the problem, we must ask ourselves why the person did not speak up. More often than not, the core cause of communication failure is not the lack of platforms or communication channels but the working culture.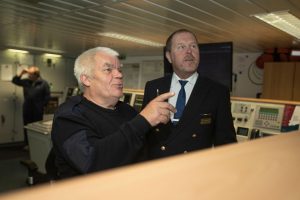 From shipping companies, we learned to ask the question, "what happened?" instead of "who dunnit?"  Communicating a culture of trust requires a continuous effort and involves not only the Master but the whole crew. One common problem is that when a problem is detected and not reported directly, this becomes a routine, something that "has always been this way". However, it is the Master who ultimately has the responsibility for a vessel and who therefore needs the company's support to handle safety issues in the best way. The Master needs to feel confident that s/he is backed up in their daily safety work. When an accident has happened, collaboration with the relevant authorities is key in terms of handling the situation in the best possible way.
A general dilemma is writing clear instructions that reflect the reality of a given situation. In order to formulate messages in an effective way, we must put ourselves in the shoes of the people we are writing the instructions and guidelines for. Instructions always need to be short and sweet. They should not be used as disclaimers,  but constitute effective tools for handling a range of different situations. It is easy to be reactive and add more rules and points instead of drafting concise, clear and tangible instructions. Sometimes instructions need to be rewritten to better serve the operation at hand.
We can conclude that safety is more about dilemmas than rules. We cannot cover every possible scenario in our rules, regulations, and guidelines. There is a conflict between protection and production and people need to make a choice every day. Since the rules cannot resolve all safety dilemmas, it is vital to invest in creating a culture of trust where people understand the consequences of their choices and are willing and able to communicate with each other.